To Mulch or not to mulch…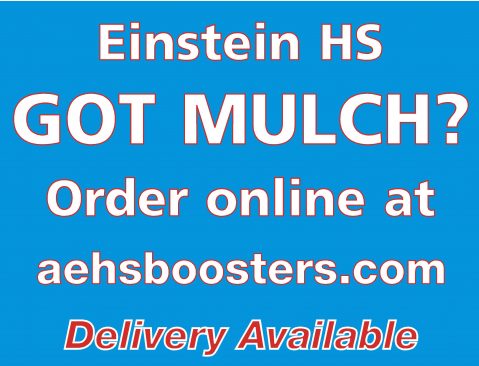 It's not even a question. Don't leave your spring plantings naked and shivering in the early spring temps — we've got plenty of mulch to keep them covered.  Our annual mulch sale is on now!
Order Deadline: March 13
Delivery/Pick-up: March 18 from 8am – 1pm
Cost: $4.50/bag for delivery or $4/bag for pickup
Proceeds from this mulch sale benefit all student athletes at Albert Einstein High School as well as fund scholarships for graduating seniors.
Winter Sports Banquet
The AEHS Winter Sports Banquet to honor all winter 2017 Titan athletes and coaches is Wednesday, March 8 from 6:30 – 8:30 PM in the Cafeteria. Dinner and cake will be served. Tickets are $6 ($10 suggested donation for parents to the Booster's Scholarship Fund) and are only available at the door (cash & checks only). Tickets go on sale at 6:00 PM. Avoid the line for tickets and arrive before 6:30 PM.
HOW CAN I HELP?
See the Sign-up Genius
SPIRITWEAR FOR SALE
The Boosters will also have spiritwear for sale at the Winter Sports Banquet. Although the banquet doesn't start until 6:30 pm, our spiritwear operation will be open for business at 6:00. New items include baseball caps and socks – take our word for it, they are very cool! Cash, checks and credit cards welcome!
BANQUET RAFFLE
Join our evening's 50-50 raffle. Half of the raffle proceeds goes to the Boosters and half goes to the holder of the winning raffle ticket. Tickets are $1 each or 12 for $10. Winners must be present to win — drawing will take place during dessert service at the banquet.
Attention Senior Athletes
The Boosters award 6, $1000 scholarships to graduating senior student/athletes. (3 girls/3boys). In addition, Boosters is facilitating the new Rackey Scholarships, awarded to 2 girls who are student-athletes and will be the first in their households to attend college. Only one application is required for these awards.  Additional information and forms are available on the scholarship page.
Winter Concessions
Do you want to make some extra money for your team, club or group? This year the indoor concessions will be giving each group, club or team 75% of the proceeds you make at a concessions event. Please sign up below or go to the boosters home page for a link to the sign up. We provide concessions for basketball and wrestling. We are unable to provide for indoor track or swimming, but still support the work of those two winning AEHS Teams!
No experience needed, we will train and send directions. Sign up now!
http://www.signupgenius.com/go/20f0c44aaa92ea13-winter
Winter Sports at Einstein
The winter sports season is here.  Print off the schedule of all the sports to catch all the competition!
Join the Boosters
Being part of Einstein Athletics is a great way to enjoy and contribute to our Titan community! You can meet other parents, learn more about what's going on at the school, and have fun, too. There are lots of ways you can be involved, so start by becoming a Boosters member!
Our membership drive is in full swing and we invite you to  join the Boosters.  Your membership, and any additional donations, can be directed toward your kids' teams and give you discounts on Einstein swag.
Your Boosters' membership helps to support ALL  of our athletic teams — male and female — as well as the six scholarships awarded to Einstein student-athletes each year. Join and help us do our part in making Einstein the Place to Be!
Come Join Our Team
We need a few more people to fill some vacant positions, please contact Phil C if you can help.